UW Libraries Resources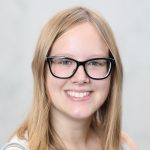 Biotechnology liaison, Paije Wilson, from the Ebling Health Sciences Library, has provided these links and web pages to assist students in finding information regarding life sciences, patent, business and legal resources via the campus library system.
Campus Libraries homepage
http://www.library.wisc.edu/
Ebling Health Sciences Library homepage
http://ebling.library.wisc.edu/
Biotechnology Research Guide
https://researchguides.library.wisc.edu/c.php?g=860695&p=6167778
Pharmacy Research Guide
https://researchguides.library.wisc.edu/pharmacy
Citation Manager Resources through Ebling Library
If you have any questions on how to obtain information through the Health Sciences Library, feel free to contact Paije Wilson, Ebling Library Academic Librarian and the program's biotechnology liaison.
Library Liaison to the M.S. in Biotechnology:
Paije Wilson
Academic Librarian
Video Introduction
Office: Ebling Library
750 Highland Ave
Madison, WI 53705
HSLC Room 2341
Email: paije.wilson@wisc.edu
Phone: (608) 262-2372
Fax: (608) 262-4732
Biotech Websites & Databases
These biotechnology web sites have been collected by the program's faculty to aid students as they progress through the degree program.
Literature:
To search for an article:
To find a journal:
Bioethics
Business:
Drug Discovery:
Legal:
General Legal Resources
Regulatory Agencies and Associations
Regulatory Professional Organizations
Regulatory Online Publication Websites
Science: