Introducing the Class of 2025
We're exited to welcome the Class of 2025, our newest student cohort scheduled to begin their two-year journey starting September 2023.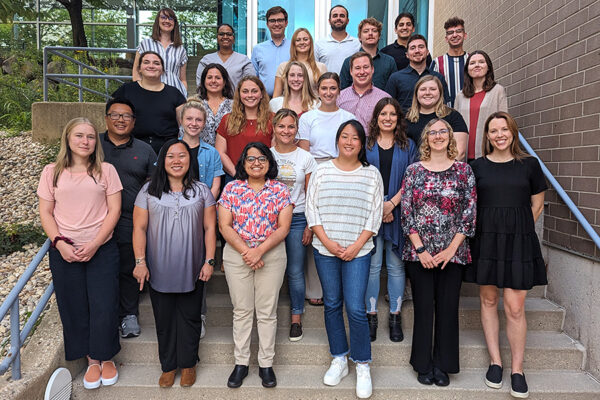 Program Mission
"To deliver an integrated curriculum in science, business, policy and law preparing students to LEAD the development and commercialization of new and promising technologies."
This degree meets the specific needs of working professionals by offering industry-focused course content with a convenient evening/weekend course schedule. Discover how this degree can help working professionals accelerate their career growth in the biotechnology industry.
"This program has been truly transformative for my career!"

Ashley Hallfrisch, Class 2022, Senior Associate Scientist, Catalent Pharma Solutions (LinkedIn, March, 2022)
The M.S. in Biotechnology Program can be a powerful tool for employers to recruit, develop and retain their highest potential workers. Find out how supporting employees earning this degree benefits employers...
Join a community of world-renowned faculty and biotechnology professionals who understand the global nature of biotechnology. Broaden your technical foundation with focused laboratory components and develop business acumen you desire to achieve your professional aspirations.
The Relevance to Industry
New life science discoveries are continuously being developed to address global health and environmental problems. Companies and their employees in the biotech industry are challenged to meet the needs of society while navigating the uncertainties of commercial industry.
What qualities enable companies to deliver the potential of biotechnology?
Industry faculty member, Mary Westrick, sums it up best: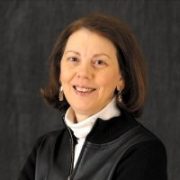 "Diverse cross-functional teams get a product to market faster and beat the competition."
Mary Westrick, Ph.D.
Adjunct Professor, Project Management and Leadership
Vice President for U.S. Phase I, Quintiles (retired)
Vice President for Early Clinical Development, Covance (former)
How can you make a greater contribution to biotechnology and your career?
Gain practical professional skills, including:
Cross-functional knowledge and leadership
Ability to communicate to diverse audiences
Project and people management skills
Technological expertise
Product development insight
Commercialization understanding
Corporate strategy and decision-making
Skills transferable across careers in any industry
"This program has provided so many opportunities for growth. I now have the momentum to drive my own career path and make the decisions I need to be successful."

Katie Meling, Class 2022, Laboratory Manager, Elephas - A tumor imaging company (LinkedIn, March, 2022)
Evening & Weekend Courses for Full-Time Working Professionals
4 Semesters, 7 Sessions per Semester, Done in Under 2 Years
Each semester is comprised of seven Sessions, which take place every other week during the fifteen-week semester.

Each Session consists of classes on Thursday evening, all day Friday, and Saturday morning.
Classes are conveniently held away from UW-Madison's main campus at either the University Research Park MG&E Innovation Center or the Biopharmaceutical Technology Center Institute (BTCI) at the Promega Corporation. Both locations are easily accessible from "The Beltline" (main city highway) and parking is always available and free.
The M.S. in Biotechnology program is a two-year degree with traditional Fall and Spring semesters with no courses during the summer months. Each semester is comprised of seven Sessions, which take place every other week throughout the 15-week semester. Each Session consists of classes on Thursday evening, all day Friday, and Saturday morning.
"A best-in-class education that helped take my career to new places I'd only dreamed about!"

Derek Buhr, MS, Class 2014, Automation Engineer III, NanoString Technologies, Inc. (LinkedIn, March, 2022)
The Curriculum
The M.S. in Biotechnology offers a powerful two-year curriculum integrating topics in science, business, regulatory policy and law to explain how technology discoveries become commercial products in the biotechnology industry.
This integrated, interdisciplinary curriculum has been custom designed and continuously refined since 2002 to fulfill the program's mission of preparing students to lead the development and commercialization of emerging biotechnologies.
Curriculum Themes and Courses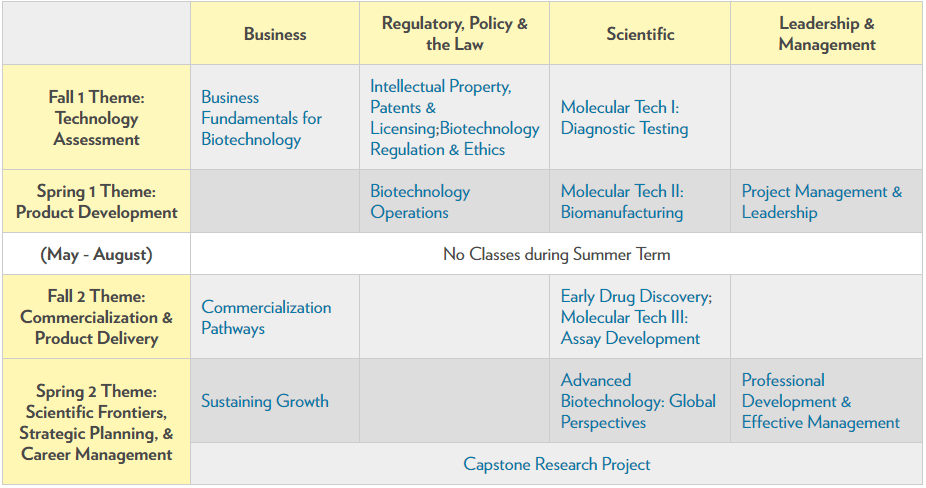 "I use the skills and knowledge gained throughout this program on a daily basis. It has changed my career path for the better and given me a strong knowledge base to succeed in the Biotech Industry!"

Caleigh Rasmusen, MS, Class 2017, Supervisor – Enterprise Sourcing, Exact Sciences (LinkedIn, March, 2022)
A Blend of UW-Madison Scholars and Biotechnology Industry Leaders
All-Star Collection of Faculty and Instructors
The program's faculty are recruited from commercial private industry and from across UW-Madison, including the Wisconsin School of Business, the UW Law School, the School of Pharmacy, the Wisconsin Alumni Research Foundation (WARF), the School of Medicine and Public Health, and more.
The result for students is direct access to foremost scientific, business, and regulatory policy professionals, all of whom are committed to your professional growth and career success.
You will be challenged by the faculty and this curriculum, but rewarded with a profound experience and degree that will benefit you for a lifetime.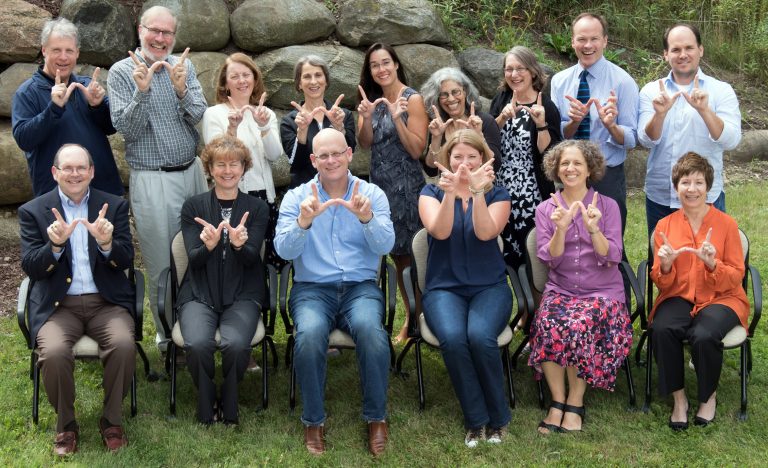 "This graduate program was the catalyst for big changes in my career. I attribute a significant part of my success to the skills and network I developed here."

Oliver Pentinmaki, MS, Class 2010, Account Executive, Benchling (LinkedIn, March, 2022)
Alumni Success Stories
Career Impact is Immediate and Lasting 
Explore the alumni profiles highlighted below and consider your own career potential.
The cross-functional knowledge our students gain helps them successfully lead their careers toward positions of greater leadership and responsibility.
The results of the M.S. in Biotechnology degree are real:
90% of students cite a "significant or considerable" impact on their careers even before they graduate.
Two decades of alumni success has proven that program participants advance quickly in their careers after graduation, whether by advancement within their existing company or by successfully transitioning to new positions elsewhere.
Colleen Stowe, MS (Class of 2015) Senior Group Leader, Cell & Gene Therapy, PPD
From medical laboratory diagnostics, to clinical laboratory supervision, to quality assurance management, Colleen has created career opportunities over the past decade through continuous professional education and preparedness.
Colleen credits the MS in Biotechnology Program for providing her with comprehensive understanding of how regulatory policies and business factors impact how new clinical tests and devices are brought safely to market.
"This M.S. program has transformed my career, I would highly recommend."

Serge Romero, Class 2022, Sr. Program Manager – Product Management and Strategy, Exact Sciences (LinkedIn, March, 2022)
Watch our Program Overview webinar,
Hear our Alumni share Career Insights
In this 25-minute recorded webinar, you'll learn about the M.S. in Biotechnology, a two-year professional degree designed specifically for people working in the biotech industry or related field. Natalie Betz, Associate Director, shares details about the curriculum, career outcomes to expect, and the application process.
Six graduates from 2009 to 2021 discuss biotech career strategies and how the M.S. in Biotechnology Program helped each with their professional pursuits. You'll find the alumni panelists offer valuable advice for developing careers for leadership positions within the biotechnology industry.
"I wouldn't have gotten to my current position without this program."

Vanessa Voris, MS, Class 2021, Nonclincial Medical Writer, MMS (LinkedIn, March, 2022)