Academic Requirements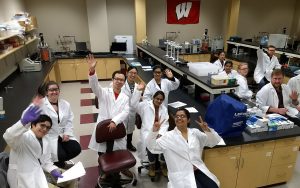 A significant strength of our program is the diversity and professional experience of the student cohort entering each year. For this reason:
Students with relevant industry work experience are strongly favored for admission.
To qualify for the Master of Science in Biotechnology program, an applicant should have a bachelor's degree (minimum GPA 3.0 favored) with a minimum of two semesters of lab-based biology, chemistry, or related life science courses.
If an applicant's bachelor's degree GPA is below a 3.0, they can be admitted to the master's program, but may enter the university on academic probation and be required to earn at least a 3.0 GPA during their first semester.
In extreme cases, applicants with significantly low bachelor's degree GPA's may need to complete supplemental course work to demonstrate improved academic proficiency before applying. For questions, contact Bryan Husk.
See "How To Apply" for required application materials and step-by-step instructions for submitting your online application to the Graduate School.
Please note, the Graduate Record Exam (GRE) is NOT required.
Additional Requirements for International Students
International students interested in the MS in Biotechnology Program have added prerequisites to consider before applying. Visit the "For International Prospective Students" page featured below:
Join a community of world-renowned faculty and biotechnology professionals who understand the global nature of biotechnology. Broaden your technical foundation with focused laboratory components and develop business acumen you desire to achieve your professional aspirations.
Required Time Commitment
Nearly every student has a job, family and friends, and school work that are mutually exclusive and equally demanding of their time. Effective time management is critical to your academic success.
Students who have completed the M.S. in Biotechnology will say, "You get out what you put into it." Time management is a key to success. Students in the program should expect to dedicate 10-15 hours per week to complete required readings, meet with project team members, write assigned papers and prepare presentations.
It's a face-paced experience and at times it can be stressful, but know that:
The commitment is doable.

You have a one-month break between semesters and a three-month summer break.
Support from Your Employer
If you have a full time job, be sure to talk with your employer about your interest in the program before deciding to apply. It's extremely helpful to gain employer support, especially knowing you will need to negotiate seven Fridays away from work per semester in order to attend class. You will want to get approval from your company and your boss before making this commitment. See Course Schedule and Program Calendars.
Also, many employers have tuition reimbursement programs to help cover the cost to attend. Helping employees advance their education by earning a professional degree is one way companies can reward and retain their most talented employees. In fact, there are a number of reasons your participation in the program can be a benefit your employer.
Tuition and Financial Aid
The program spans four semesters and costs $10,500 per semester for a total cost of $42,000. Aside from occasional required book purchases, there are no additional costs.
Tuition is the same for all students enrolled in the program, regardless of state residency or citizenship.
There is no direct funding available for MS in Biotechnology students, however, many students receive partial tuition reimbursement from their employers. For more information, see Tuition and Financial Aid.
International students are not allowed to accept Graduate Assistantships that waive tuition and we have no scholarships to offer students.
Technical Requirements
Students admitted to the program are expected to own a laptop for use throughout the program. Registered students receive for free the latest Microsoft Office 365 productivity software that includes Word, PowerPoint, Excel and other apps.
Other than having a personal laptop and install the available Office 365 applications, there are no other software titles required to participate successfully as a student in this program.