September 2023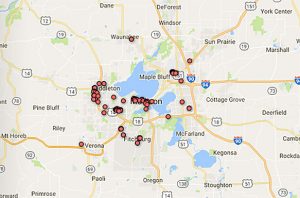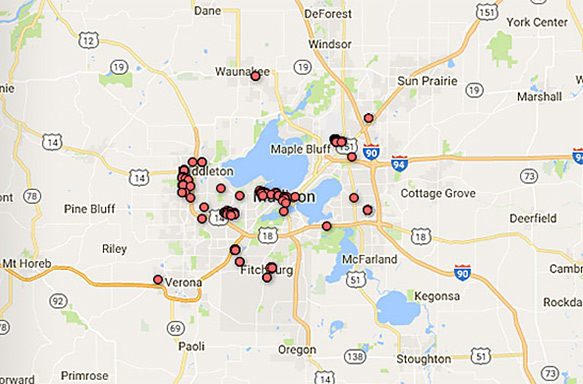 Last updated: September 12, 2023
Started January 9, 2018 by Bryan Husk
Has Economic Uncertainty Finally Affected Biotech Hiring in Madison?
Just 300 biotechnology job openings were tallied in September 2023, the lowest total since this job count project started in 2018.
At no point in the last six years has the total biotech jobs count dipped below 400, and the recent 300 job count marks a 35% drop from the 464 recorded at the start of 2023.
How should these numbers be interpreted and what do they suggest for biotechnology job seekers?
Madison Biotechnology Job Opportunity Highlights
Caution Amid Uncertainty
Madison's commercial biotechnology industry has proven remarkably resilient over the past twenty years, but economic headwinds are challenging local biotech companies.
The "Great Recession" mortgage lending crisis dramatically slowed the nation's economy from 2007-2009, but Madison and its dynamic biotechnology industry weathered the disruption remarkably well. As evidence, the M.S. in Biotechnology had no difficulty recruiting new students at the time, and program alumni reported few problems finding employment.
A decade later, facing global economic disruption due to the COVID pandemic, Madison's biotech industry revved up. Local hiring in the biotech economy doubled as COVID testing and vaccine development money flooded the market. The inevitable decline of COVID-related Federal funding, though, has contributed to some of the company layoffs witnessed over the last eighteen months.
But that's not the sole reason hiring has lessened:
Slowdown in global economic markets outside the United States continues to negatively affect quarterly sales and revenue predictions for many American biotech companies, including some in Madison.
Lower revenue has forced some companies to cut back their labor costs through rounds of layoffs or by opting not to fill new or existing job needs. Add to that high interest rates raised to dampen inflation, companies fear a possible economic recession in 2024. Until these factors abate, biotech companies will likely continue to limit hiring.
Madison Remains Resilient
But not everything is doom and gloom. Most local biotech companies are still hiring, but just a lower numbers.
The largest local biotech companies like Eurofins, Exact Sciences, MilliporeSigma, Promega Corporation, Thermo Fisher Scientific (PPD), and Labcorp Drug Development show continued signs of growth. Another positive, Arrowhead Pharmaceuticals is nearing completion of its $250 million manufacturing buildings in Verona. Finally, the University Research Park, home to dozens of biotech start-up companies, and Forward BIOLABS, Madison's co-works lab space for biotech start-ups, are both operating near capacity.
Whether you are an entry-level bench scientist or a senior executive, Madison biotechnology employment opportunities still exist at all levels of career advancement.
How does this effect you?
Job candidates need comprehensive technical skills, cross-functional experience, and broad knowledge of the biotech industry to best compete in a tighter labor market.
It might be the right time to consider the M.S. in Biotechnology Program to expand your skillset, knowledge, and professional credentials as the biotech job market becomes more competitive.
Many biotechnology companies offer tuition reimbursement to attract and retain talented employees.
Companies are finding and keeping their most talented employees by supporting their career development through education in advanced degree programs likes the M.S. in Biotechnology from the University of Wisconsin—Madison. Consistent with this corporate strategy, most students in the M.S. in Biotechnology Program working full time receive tuition support from their employer for at least a portion of their tuition, if not the total cost.
Since the degree was launched in 2002, biotechnology companies have recognized the value of the program's industry-focused curriculum. Corporate leaders with employees in the program praise students who can apply functional knowledge of business, legal and regulatory frameworks toward their company's push to development, manufacture and commercialize new biotechnology products.
If you are biotechnology professionals in Madison:
Apply to the M.S. in Biotechnology program to help accelerate your career potential. Most M.S. in Biotechnology graduate students work full time while obtaining their degree. Reach out to your mentors and discuss how your goals fit within your company's strategic plans. Work with them to gain company support so that you can achieve educational and employment success. Don't forget to ask about your employer's tuition reimbursement policy.
If you are considering relocating to Madison:
The biotechnology community is always looking for new talent. Qualified applicants to the M.S. in Biotechnology program are very likely to find full-time employment within the local biotechnology community. Contact the M.S. in Biotechnology Program to help you determine which local biotech companies best match for your background and experience and present you with the most favorable opportunities for hire.
If you have an interest in biotechnology:
You've probably already thought about working in the biotechnology industry. Now is the ideal time to make that career leap! Get invaluable work experience and consider applying to the M.S. in Biotechnology graduate degree program. Contact the M.S. in Biotechnology Program to determine how you can get started working in the fast-paced, rapidly expanding field of biotechnology.
Make this the year you grow your career in the field that is transforming the world and apply for Fall admission to the Master of Science in Biotechnology Program at the University of Wisconsin—Madison.
Related Press Releases
[1] "PPD boosts biopharma in the Madison area," Wisconsin State Journal, June 2, 2018.
[2] "Promega Corp.'s $190 million R&D center to be architecturally unique," Wisconsin State Journal, July 15, 2018.
[3] "New $60 million corporate headquarters is proposed for Exact Sciences," Wisconsin State Journal, June 16, 2018.
[4] "Here's why Exact Sceinces soared 42.8% in January," Feb 4, 2019. The Motley Fool.
[5] "Illumina expands its Madison production facility," Wisconsin State Journal, June 11, 2015.
[6] "Illumina construction," University Research Park, May 4, 2017.
[7] "Promega's newest building, the Kepler Center, opens for business," Wisconsin State Journal, November 29, 2015.
[8] "Catalent Biologics to expand Madison operations, add 100 jobs," Wisconsin State Journal, October 22, 2016.
[9] "Stem cell company Cellular Dynamics expands and relocates new headquarters," BioSpace.com, January 3, 2017.
[10] "After buying Covance food testing unit, Eurofins plans to build $35M complex near Dane County Regional Airport," Wisconsin State Journal, November 18, 2018.
[11] "Exact Sciences $.28 biollion acquisition causes ripples in medicine, biotech, and finance alike," The Capital Times, July 31, 2019.
[12] "FDA Decision Expands Market for Exact Sciences' Cologuard Test," Xconomy.com, September 23, 2019.
[13] "Fujifilm Cellular Dynamics prepares to open 'cleanroom' facility," Wisconsin State Journal, September 15, 2019.
[14] "Stratatech hopes $28 million expansion propels growth in skin-tissue business," Wisconsin State Journal, April 29, 2019.