Mark Cigan
Credentials: M.S. Zoology, Ph.D.
Position title: Global Head of Genetic Innovation
Cobb-Vantress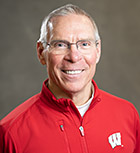 Adjunct Faculty Professor, M.S. in Biotechnology Program
Dr. Cigan is currently the Senior Director of the Trait Development group at Genus R&D in Madison, WI. Through internal and external collaborations, Mark leads research teams which use gene editing, gene sequencing and mammalian cell and reproductive biology to discover and develop disease resistance traits to improve animal health in livestock.
Prior to joining Genus in 2016, Mark spent 24 years at DuPont Pioneer (now Corteva Ag) focusing early in his career on plant reproduction to develop genetic solutions for the generation of hybrid seed. Mark also simultaneously led the Genome Modification group at Pioneer advancing gene editing for discovery and commercial applications in maize, sorghum, wheat and soybean to speed trait development and deployment.
Mark has trained and supervised more than 40 scientists, with his teams authoring over 40 science publications, and has enjoyed professional collaborations with US, European and Australian laboratories focusing on aspects of genetics, plant reproductive biology and genome modification and livestock diseases.  Mark is an inventor on over 30 US and International granted patents and an invited speaker at plant and animal conferences.
Mark uses his training in genetics, molecular biology, cell biology, immunology and biochemistry to improve agriculture, by increasing high yielding plants and improving animal health with a goal of generating more sustainable food production systems while improving the environment.
After earning his doctoral degree in Yeast Genetics and Molecular Biology at Northwestern University, Chicago, Dr. Cigan extended his graduate studies as a National Research Council Fellow at the NIH in Bethesda, Maryland. Working in yeast as a model, his biochemical work contributed to the understanding of how eukaryotic cells control protein synthesis of genes under stress.
Selected publications:
tRNAi(met) functions in directing the scanning ribosome to the start site of translation AM Cigan et al Science 1988
A protein complex of translational regulators of GCN4 mRNA is the guanine nucleotide-exchange factor for translation initiation factor 2 in yeast. AM Cigan et al PNAS 1993
Targeted Mutagenesis, Precise Gene Editing, and Site-Specific Gene Insertion in Maize Using Cas9 and Guide RNA S. Svitashev, et al Plant Physiology 2015
SITE-Seq: Mapping the genomic landscape of CRISPR-Cas9 cleavage P. Cameron et al. Nature 2017
Complex Trait Loci in Maize Enabled by CRISPR-Cas9 Mediated Gene Insertion H. Gao et al Front in Plant Science 2020
The use of cells from ANPEP knockout pigs to evaluate the role of aminopeptidase N (APN) as a receptor for porcine deltacoronavirus (PDCoV) Stoian A et al Virology 2020