Kurt J. Zimmerman
Credentials: M.S. in Public Policy
Position title: Senior Director of Biohealth Industry Partnerships
Director, Master of Science in Biotechnology Program
School of Medicine and Public Health
University of Wisconsin - Madison
Email: kjzimmerman@wisc.edu
Phone: (608) 262-0685 office
(608) 219-6425 cell
Address:
4110 Health Sciences Learning Center
750 Highland Ave, Madison, WI 53705-2221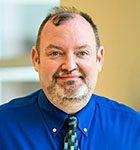 Kurt J. Zimmerman is Director of Industry Engagement for the School of Medicine and Public Health, as well as founding Director of the Master of Science in Biotechnology Program at the University of Wisconsin-Madison. Zimmerman works day-to-day in the Dean's Office for the School of Medicine and Public Health furthering innovation and leading new initiatives, such as The Isthmus Project, inspiring entrepreneurship within UW Health.
Prior to joining the M.S. in Biotechnology, Zimmerman worked in the nationally ranked manufacturing and online programs in the College of Engineering at UW-Madison, and spent five years in a variety of roles within the UW System, including fundraising, corporate relations, government lobbying and human resources. Zimmerman began his career in Stamford, Connecticut as a fundraiser and government lobbyist.
Zimmerman is a frequent speaker on topics relating to career transitions, career management and professional communication. He is also a consultant to Fortune 500 companies on issues relating to continuing education at the graduate level.