Saturday, May 21, 2022
Save the Date: Saturday, May 21, 2022
Friday, May 20 UPDATE:
The weather looks suspect, but we're sticking with the plan. Everyone's welcome!
WHEN: 12:00 p.m. to 4:00 p.m. on Saturday, May 21, 2022
WHAT: Alumni & Student Picnic (friends & family welcome)
WHERE: McGaw Park (5326 Lacy Road, Fitchburg, Wisconsin)
WHY: Because we all deserve a fun day post-pandemic
BRING: A dish to share (or your own private picnic)
*A grill will be available  *BYOB
The MS in Biotechnology will provide the following. You can bring something to share that compliments…or just show up.
Beef and vegetarian chili
Brats, hot dogs, buns, and condiments
Turkey & gravy
Homemade macaroni & cheese
Doritos, potato chips, & tortilla chips
Grapes
Assorted cookies
Lemonade, fizzy water, bottled water
Paper plates, bowls, cups, forks, spoons, & knives
Napkins
Multiple coolers with ice
Multiple slow cookers keeping everything warm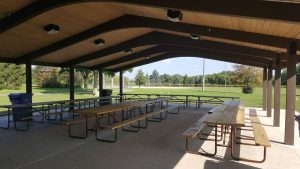 The M.S. in Biotechnology Program has rented the covered shelter at McGaw Park from 11:00 a.m. to 4:00 p.m. to welcome our alumni and students for an outdoor picnic with some fun and games.
The park features two sandy beach volleyball courts and multiple baseball kickball diamonds to use. Michele Smith (Class 2011) and Aileen Murphy (Class 2023) have already said they are all in on a kickball game!
SCHEDULE:
11:00 a.m. – Shelter rental begins. Set up for picnic
12:00 p.m. – Lunch (potluck share or bring your own)
1:00 p.m. – Acknowledge Class of 2020 and Class of 2021
1:30 p.m. – R&R (conversation, kickball, volleyball, etc. )
3:30 p.m. – Clean up
4:00 p.m. – Shelter rental ends
RSVP for May 21, 2022 Alumni & Student Picnic