Each year the Master of Science in Biotechnology Program hosts its own commencement event to acknowledge the accomplishments of its graduating students.
Who: The Graduating Class of 2023
Where: The BTCI Auditorium (5445 E. Cheryl Parkway, Fitchburg, WI)
When: Friday, May 12, 2023
Webex Link (Virtual Remote):
https://uwmadison.webex.com/uwmadison/j.php?MTID=mc0e6050f5a2812b737e5cae0272f5e0d
Passcode: cuYpWHfJ888
Program Commencement Details
Program to Begin PROMPTLY at 5:30 p.m.
Welcome
Kurt J. Zimmerman, M.S.
Senior Director of Biohealth Industry Partnerships
Director, Master of Science in Biotechnology Program
School of Medicine and Public Health
Faculty Acknowledgement
Scott Fulton, M.S.
Adjunct Professor, Capstone Mentor
Advanced Biotechnology: Global Perspectives;
Capstone Research Project
Master of Science in Biotechnology Program
Keynote Speaker
Aaron Olver, M.A.
Managing Director
University Research Park
About the Class of 2023
Bryan Husk, M.A.
Administrative Associate Director
Master of Science in Biotechnology Program
Conferring of Degrees
Light Appetizer Reception to Follow
Promega Corporation's Vaccination & Mask Policy:
Verbal Symptom Check:
Representatives of the MS in Biotechnology Program will verbally perform a symptom check to ensure visitors has not been positive with COVID-19 in the past two weeks and are not showing symptoms.  A positive test in the past 2 weeks or demonstration of symptoms will prevent entry.  If neither of these is positive the visitor does not have to wear a mask unless they are not vaccinated.
Unvaccinated Visitors: 
Unvaccinated visitors should wear a mask.
Official UW–Madison Commencement
The University of Wisconsin–Madison 2023 Spring Commencement ceremony scheduled for Saturday, May 13 at Noon at Camp Randall Stadium and will be different from other years. Be sure to visit the web site for more information.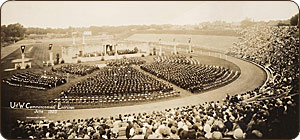 Further campus commencement news and information will be shared on the UW-Madison 2023 Spring Commencement.