Alumni Profile:
Taking a career to the next level.
Although he'd spent twenty years working in the biotechnology industry, Kenyon Koeper felt it was only the beginning of his professional career. He'd worked his way up to a senior project manager role at PPD in Madison, and with it watched as his company grew from fewer than 200 employees to over 1,600. But while his company quickly expanded, Koeper knew his upward momentum would soon come to an end.
He needed something to propel his career to the next level — and knew a Master of Science in Biotechnology was the answer. Despite not having a background in biotech, Koeper had developed decades' worth of practical knowledge on the job. With this knowledge, he set his sights on a management position; he wanted to use his expertise and insight to help make the critical decisions that determine the success of biotechnology companies.
Broadening his skillset
Koeper applied to the University of Wisconsin–Madison and was accepted into the Master of Science in Biotechnology Program. A blend of science, business, legal and regulatory policy, the breadth and depth of the curriculum piqued his interest.
"I wanted a program that understood what a career in the biotech industry actually looked like," Koeper explained.
"It was important to me that the curriculum could be directly applied to what I was already doing in the field, and could anticipate what I would need to know to make me successful in the future."
The program's hands-on molecular technology lab courses allowed him to experience first-hand the latest methodological techniques and data analysis approaches underpinning industrial biotechnology. The business curriculum emphasized corporate strategy and decision-making skills to help him understand how to identify the risks and opportunities that biotechnology leadership must effectively navigate in order to execute successfully.
"Not only did I gain a variety of skills and credentials I needed to fulfill my professional goals," said Koeper, "I also gained a close network of students, faculty and industry professionals."
Working in the epicenter of biotech
Weeks before completing his degree — less than two years after he began the program — Koeper landed his dream job with Sarepta Therapeutics as an Associate Director for Project Management. The Cambridge, Massachusetts-based Sarepta is a top-ranked, rapidly growing company centered in a hotbed for biotech research and is known for developing gene therapies for debilitating genetic diseases, including a ground-breaking gene therapy treatment for Duchenne Muscular Dystrophy.
Within the first few weeks of his new job, Koeper put his degree to use — impressing colleagues and management alike. While discussing a problem with a drug substance with his supervisor, Koeper recalls how he demonstrated the breadth of his understanding of sophisticated science, down to the intricacies of plasmid DNA.
"The issue revolved around whether the plasmid DNA was supercoiled, circular or linear when it was measured by qPCR. My supervisor said that if I needed the science background on DNA or PCR to go talk to so and so," Koeper said. "I replied that I knew what she was talking about; we covered it as part of the biotechnology degree. She stopped and looked at me like 'Oh, maybe you do get it!'"
This is an accordion element with a series of buttons that open and close related content panels.
Questions about the M.S. in Biotechnology Program?
Contact Bryan

"I specialize in helping prospective students understand the degree, how it fits with their career goals, and how to apply for admission.

Please contact me. You'll receive a prompt response."
Bryan Husk, Assistant Director
(608) 265-0773 office
bthusk@wisc.edu
LinkedIn Profile
About the M.S. in Biotechnology, UW-Madison
Established in 2002, the Master of Science in Biotechnology at UW-Madison is a two-year cross-disciplinary program for scientists, technical professionals, business strategists and attorneys seeking to advance their career in the biotechnology industry without having to put their career on hold.
The project-based curriculum focuses on the development and commercialization of new technologies and provides a diverse mix of science, business, bioethics, regulatory policy and patent law.
Students are instructed by world-renowned scholars and leading industry professionals in the biotechnology field. Graduates join a powerful professional network of over 350 alumni.
Register Now for the 12:00pm, March 14, 2023
Program Overview Webinar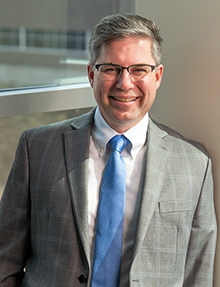 Kenyon Koeper, M.S.
Class of 2019
Associate Director, Project Management
Sarepta Therapeutics