Alumni Profile:
Just because I had a science degree did not mean I was restricted to being a bench scientist.
When Heather Gerard entered the Master of Science in Biotechnology in 2004, she was working in a medical research laboratory at the UW as a Research Specialist. Through her duties at the bench, she developed proficiency in a wide variety of molecular biology applications and techniques.
At a crossroads, she pursued the degree in order to explore the broadest range of topics possible. Her goals centered on understanding the fusion of science and business and how that combination drives not only the biotechnology industry, but the power of that industry to improve the health and welfare of society.
Shortly after enrolling in the program, she accepted a position as a Technical Service Scientist at Madison-based Promega Corporation, providing technical support on products and related molecular biology applications to domestic, international, and internal customers.
One intersection, many paths.
While she had crossed one bridge from academia to industry, courses in the M.S. in Biotechnology helped her identify and explore new career paths.
"…the business courses and introduction to legal aspects of biotechnology really opened my eyes. I didn't know much beyond the actual science. These courses confirmed that I wanted to be something other than a bench scientist. They also paved the way to my current position, as I developed an understanding of the legal aspects of the field."
Gerard's promotion to her current position—Patent Liaison—allows her to have a major impact on the protection of valuable new discoveries and their conversion into long-term product lines.
From lab to liaison.
"As a Patent Liaison at Promega, I work with R&D and legal staff in the determination of patentability, preparation and prosecution of patent applications and coordination of additional filings in the US or internationally. I also assist in the review of patents being considered for acquisition, assessments of infringement and enforcement of Promega patents and freedom-to-operate analyses. I also oversee the invention disclosure process and serve as the primary contact for R&D scientists in the technology platforms Cellular Analysis, Reporters and Genetic Identity."
Having graduated from the program in 2006, Gerard looks back at the experience as the ideal meeting of preparation and opportunity:
"One of the advantages of the program was networking with different people in the industry. Learning about their career paths helped me see the potential of my own. Having guest speakers from different aspects of biotechnology opened my eyes to different professional opportunities. Just because I had a science degree did not mean I was restricted to being a bench scientist."
This is an accordion element with a series of buttons that open and close related content panels.
Questions about the M.S. in Biotechnology Program?
Contact Bryan

"I specialize in helping prospective students understand the degree, how it fits their career goals and how to apply for admission.

Please contact me. You'll receive a prompt response."
Bryan Husk, Assistant Director
(608) 265-0773 office
bthusk@wisc.edu
LinkedIn Profile
About the M.S. in Biotechnology, UW-Madison
Established in 2002, the Master of Science in Biotechnology at UW-Madison is a two-year cross-disciplinary program for scientists, technical professionals, business strategists and attorneys seeking to advance their career in the biotechnology industry without having to put their career on hold.
The project-based curriculum focuses on the development and commercialization of new technologies and provides a diverse mix of science, business, bioethics, regulatory policy and patent law.
Students are instructed by world-renowned scholars and leading industry professionals in the biotechnology field. Graduates join a powerful professional network of over 350 alumni.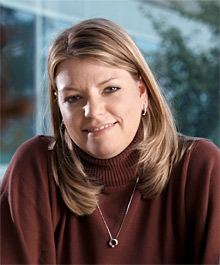 Heather Gerard, M.S.
Class of 2006
Senior Intellectual Property & Strategy Manager
Promega Corporation