The Alumni Panelists
(2009 – 2021)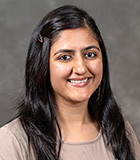 Garima Singh, MS(Class of 2021)
Associate Research Scientist, PPD
Before starting the MS in Biotechnology, Garima worked in Singapore at Biolidics Ltd (formerly Clearbridge Biomedics Pvt Ltd) as an associate scientist where she served as the project and technical lead for cellular and molecular assay development for identification and characterization of circulating tumor cells.
During her time at Biolidics Ltd, Garima saw her company go from a start up to a publicly listed corporation. She currently works at PPD as a research scientist and plans to use her degree to become a product development leader.

Madison Porter, MS (Class of 2019)
Project Coordinator, Labcorp Drug Development (formerly Covance)
After completing his undergraduate degree in 2015, Madison began working at Covance as clinical study analyst. Madison was promoted to senior analyst while completing the degree.
After graduating in 2019, he shifted his role at Covance from study analyst to project coordinator, where he is able to use the organizational knowledge and cross-functional skills he gained with his master's degree to facilitate cross-company project implementations.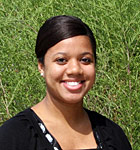 Alana Davis, MS (Class of 2011)
Head of Biologics Program Management, FUJIFILM Diosynth Biotechnologies
Alana's career path explifies how planning and hardwork, combined with skills and insights from her master's degree, can lead to limitless success. Alana began the MS in Biotechnology as a toxicology study technician at Covance, and within a year of graduating she was promoted to global commercial operations client manager.
While she appreciated working for Covance, in 2013 Alana found a business development opportunity in North Carolina with FUJIFILM Diosynth Biotechnologies. Since relocating, she has performed a variety of cross-functional duties at Diosynth, including biomanufacturing program management, commercial sales planning, and client relations development. She currently holds a significant leadership role as Head of Sales and Operational Planning.

Karali Fedor, MS (Class of 2020)
Associate Project Manager for Operations, Exact Sciences
Karali was working as a research analyst with Covance when began the degree in 2018. She
discovered an interest in biomanufacturing through content in the program and students in her cohort working in manufacturing. Drawn to their mission to eradicate cancer, she took a position with Exact Sciences with their production team before completing her first year in the MS in Biotechnology.
In April 2021, Karali began a new role in the company as a project manager in operations, allowing her to expand the use of her knowledge of production to improve existing operations and implement new initiatives.
Colleen Stowe, MS (Class of 2015)
Senior Group Leader, Cell & Gene Therapy, PPD
From medical laboratory diagnostics, to clinical laboratory supervision, to quality assurance management, Colleen has created career opportunities over the past decade through continuous professional education and preparedness.
Colleen credits the MS in Biotechnology program for providing her with comprehensive understanding of how regulatory policies and business factors impact how new clinical tests and devices are brought safely to market.

Angeline Choudoir, MS, PMP (Class of 2009)
Senior Project Manager, Genus PLC
Before becoming an experienced project manager, Angie was an R&D scientist for a local biotech start up developing DNA-based diagnostics. With her MS in Biotechnology degree, she elevated to R&D manager overseeing a small team of researchers.
As her career as a scientist continued, Angie discovered interest beyond the bench in project management, beginning as a PM with a clinical research software company and later with a global agricultural biotech company. Angie enjoys leading interdepartmental and cross-functional teams to plan and execute projects central to an organization's mission and critical to a company's financial success.
Talk with a program director